Like Lazarus rising from the dead, gang-banger
Neaners Garcia has found unexpected life and hope.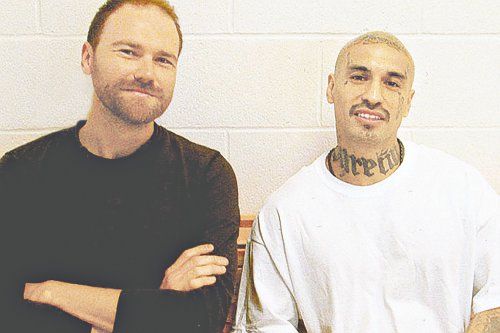 Chris Hoke with the heavily tattooed
Neaners Garcia in prison.
José "Neaners" Israel Garcia (now 35)
started hanging with one of the most violent Mexican gangs on the west coast when he was just eight years old. Growing up in Skagit Valley, Washington, the child of migrant workers who came for seasonal work and then stayed, racism led Neaners to want to find a place of belonging.
His home life was hard – his dad left when José was four, his mother was in and
out of jail and he suffered his first gunshot wound at 14. José had to teach
himself English, which he learnt at 10, through watching TV.
Neaners went on to commit dozens of crimes, spending 20 of the next 25 years
behind bars.
In his twenties, in the middle of a ten-year stint in jail, Neaners met Chris Hoke,
a new volunteer chaplain, during a prison Bible study.
They started corresponding, sharing hundreds of letters while Neaners was
incarcerated. Neaners wrote about reaching out to the Lord from the depths of
solitary confinement (the hole) where he spent five and a half years – only
allowed out five hours a week.
Through Chris' emails, other Christians heard of Neaners' plight and began
writing to him, turning his lonely cell of punishment into a womb of
transformation.
When Neaners' heart started to change and their relationship went deeper, he
began to have some hope. He asked Chris to help his little girl to come and visit
him. After months of red tape, Chris drove four hours to bring Neaners'
daughter, 5-year-old Adileta, to him. That kindness and self-sacrifice proved to
be a breakthrough for Neaners. He cried for the first time in 15 years – not from
sadness but because of God's mercy.
Neaners sees in Jesus the kind of "gang leader" he has always wanted, and
wanted to be: one who risks his neck with the authorities to love, gather, and
empower the outcasts. Neaners has also discovered how God sees him: in a
letter from solitary confinement, he wrote, "It's just so beautiful, to know I'm
God's babyboy."
Now he is an outreach assistant in Chris's Tierra Nueva gang ministry, helping
released felons deal with outstanding warrants against them, get permission to
see their children, get their gang tattoos removed or covered over, and learn
skills in order to get gainful employment so that they are not tempted to
reoffend.
The ministry uses the metaphor of Jesus' raising of Lazarus as described in
John 11 in the Bible, Neaners explained in a message to Emmanuel
Presbyterian Church in Bothell.
To bystanders these prisoners' lives may look dead - past help and stinking –
but Jesus gives them new life and calls them forth, and then he asks His people
to get the rocks and grave clothes off them and help clean them up.
Tierra Nueva comes alongside these released felons to support them financially,
practically, spiritually and socially.
Since his release, Neaners has married and is helping to raise two daughters
and a son. "I've never had a father, so I am being something I have always
wanted. I always thought I would be a gangster my whole life. I thought I'd be
locked up. I never thought I'd be this good," he smiles.
come to know the love and grace [undeserved kindness] of God.•
Neaners hopes that his change gives other gang members hope for a different
future and shows them that even heavily tattooed, hardened gangsters can
Neaners sometimes wears a Hugs for thugs T-shirt that sums up the love
offered to these marginalized men. "They need a community to help them,"
he affirms.
When Neaners was finally released from prison on July 20, 2014, his father and
two brothers were dead, his sister was fighting a tumour and his mother had
been deported. There was a real fear about what to do and where to go. All he
had was Chris.
Chris says he has found that "gang members understand Jesus' mode of
operation. That He had this grass roots pose on the margins of Galilee society.
Gangs excel at gathering the marginalized and lonely. They know how to find
the lonely and broken lives – both men and women."
"I didn't know that as I was writing I was building a friendship with Chris,"
Neaners shares. "He was seeing the real me, my inner heart, not the tough,
macho guy that everybody else sees. The gang leader. He sees the kid that was
just yearning for love."
Chris was a kid who had grown up steeped in the Bible and church culture. He
believed in Jesus from a young age and was involved in playing guitar in the
church band as a teenager. But Chris felt his Christian experience lacked
authenticity and he wanted to get away from churchy culture and find the tax
collectors and prostitutes that the Bible says Jesus hung out with.
Chris credits Neaners with ushering him into his vocation as "gang pastor".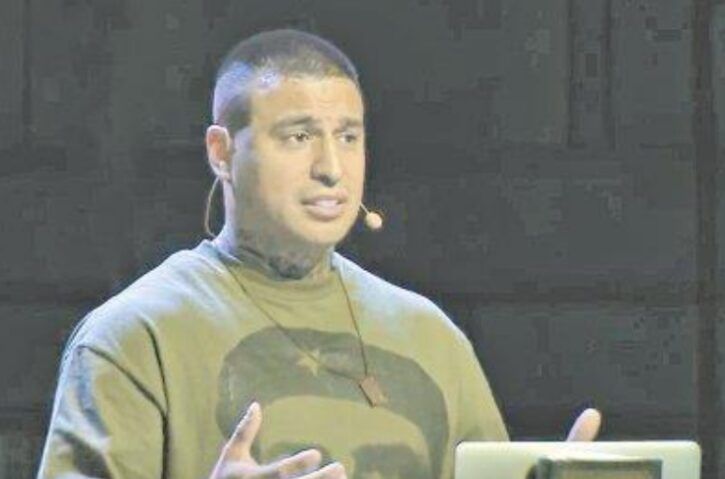 Neaners Garcia on the outside -
having gained weight, grown his
hair and had his gang tattoos
covered over or removed -
preaching at John Brown
University chapel in April
2017.(Source: Youtube)
"I had no feelings. I just didn't care. When I got out of prison I would just go
right back to doing the same thing and everybody would say 'man, that boy's
heartless'," Neaners shares in an interview with patheos.com.
The gang nicknamed him "Neaners" – a slang word for baby, which caught on
because the kids at school couldn't pronounce José.
Well, it has crept up on us all of a sudden. Time seems to escape our grip more and more each year as the months seem to be summed up in a few weeks that we are able to remember. Thankfully as a Christian we can say that this time of the year does have…
Read More

→
Newsletters come out once per month. Keep up to date, pray, be inspired. Connect below to receive it.